It's time again for another version of THE IRISH BLOGGER GATHERING. Cue the mystical, frightening IBG logo:
This week the IBG is hosted by Keith Arnold of NBC's Inside the Irish. So, yeah, it's kind of a big deal. Let's get to it:
1. Status check: How deflating was the loss to Michigan I could argue that Crist's injury makes this loss both easier to swallow and even more maddening for Irish fans?
After the game, I shuffled from the stadium to our tailgate with a slight smile. The smile wasn't coming from the knowledge that with a healthy Dayne Crist the Irish win that game by 10. The smile was to hide how much that one hurt.
I proceeded to approach other tailgaters asking for a knife. Someone finally asked what I needed it for. I simply replied, "To stab myself."
2. How critical is this Saturday's game? Walk away 2-1 and the Irish can feel good about taking on a very able Stanford squad at home next weekend.Walk out of East Lansing with a loss..?
The Michigan loss was a bit fluky. Crist doesn't get hurt, kick the FG at the end of the half, get a defensive stop on 4th and short, or give your receivers a chance on the last play of the game and the end result changes. I can't handle another loss(fluky or not) or I might actually stab myself.
A loss to Michigan State this weekend sets the stage for a dismal season that could potentially spiral out of control. This mission is deemed Critical.
3. Why does the rivalry with Michigan State seem to get so little respect?
Pre-Davie the Irish held a .657 winning percentage against Michigan State
Post-Davie the Irish own a .307 winning percentage.
Maybe it is time for Notre Dame fans to show this rivalry a little more respect. Problem is respect is a two way street: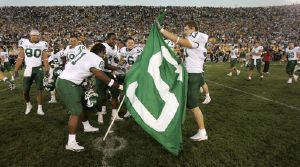 4. It's hard to draw too many conclusions from victories over Western Michigan and Florida Atlantic, but what do you expect this Saturday night in Spartan Stadium?
Michigan State is favored by 3. I don't understand this one. Dayne Crist is now 100% healthy, yo.
Notre Dame players were abuzz after practice on Tuesday:
John Goodman via Twitter: "granted, we lost… But u gota love wen the best practice of the year is right after the loss. We're in it ta win it. Aint no heads down yo"
Dayne Crist via Twitter: "Gotta practice everyday like we did today!"
Mike Golic via Twitter: "Now that was an intense Tuesday"
Kyle Rudolph via Twitter: "Great practice, that's how we get back on track."
The team sounds ready to play ball after the tough home loss. I think ND bounces back nicely.
5. Best case, worst case, most likely: The Irish's record after the first six games.
Best Case: 5-1 heading out of the tough part of the season; ranked and in the BCS conversation.
Worst case: 2-4 looking to salvage the season with a win over USC.
Most Likely: 4-2 feeling good as the team continues to show something Notre Dame hasn't shown in years: Progress
6. Let's leave Michael Floyd out of this for a second. What Irish player needs to step up and play better football?

Theo Riddick. Come on, Theo. Let's see some fireworks.
Honorable mention: The backup quarterbacks.